Move Your Dream From Concept To Reality
A Team of Highly Trained Lawn Care Specialists
& Landscape Experts
Lawn
Care
Get your dream lawn through high-quality and season specific fertilization,
aeration, dethatching, top dressing and overseeding. Grass Guys will time your other services such as grass cutting in accordance with your lawn care schedule and do all lawn care applications just at the right times to yield the best results.
Lawn and Garden
Maintenance
Keep your lawn and landscape looking perfect by giving the Grass Guys the
pleasure of mowing, gardening, trimming, doing landscape clean ups and more with our reliable and friendly team, following efficient and quality ensuring systems with cutting edge trucks and equipment.
Garden Design and Softscaping
You can trust Grass Guys to go above and beyond to provide the thought and
care you're small project needs. Whether you have a dream lawn and garden reconstruction project, want to re-sod your lawn or do any other lawn or garden improvements, we truly believe we are the team for you.
No matter the Project, You'll see the Perfection.
We do property maintenance and softscape projects but our real job is to make
you happy! We know all you want is to come home Friday afternoon to freshly turned and weeded garden beds, with the lawn looking like a golf course and your property maintained to a high quality each and every week. We don't just bring back the beauty of your lawn and garden, but we bring professionalism, reliability, care and with online payments you can have a completely hands off and worry free service. We are designed to take care of you, contact us today and put a smile on your face!
All of our Services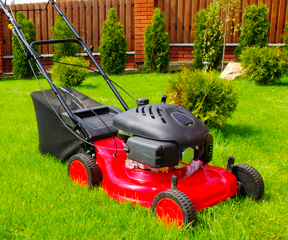 Grass Cutting
Turning garden beds
and pulling weeds
Shrub/small tree
trimming
Spring and Fall
Clean-ups
Fertilization
Aeration
Dethatching
Top-dressing
Over-seeding
Perennial, annual and
tree planting
Mulch/topsoil/river
rock/large stones
Sod installation
Landscape Clean Up
Garden design and
reconstruction
Locations We Service
Bolton